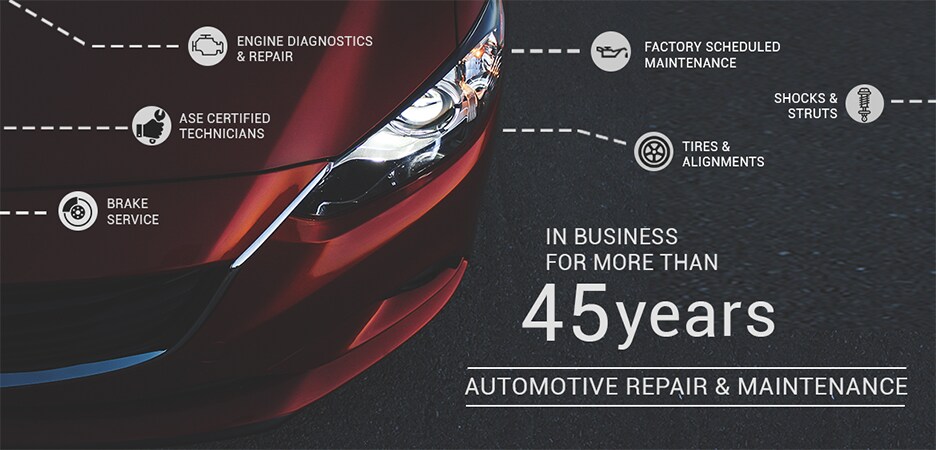 Since 1973, Harbro Auto Service Center has been a family owned and operated full service automotive center. We have been providing routine maintenance, automotive repairs, and tire sales to Whitinsville, Webster and the surrounding cities of Worcester, MA and Milford, MA for over 45 years.
Harbro Auto Service has two conveniently located full- service automotive centers located in both Whitinsville and Webster, MA. The trained and ASE certified technicians at your local Harbro Auto Service center can identify the problem your car is having quickly. They are familiar with all parts of a wide range of vehicles, and know how to identify your car's symptoms in order to guide them to the root cause of the problem. They are the ideal choice whether you have a late model import or newer domestic car, truck, SUV or minivan.
So, when you bring your car to your nearby Harbro Auto Service center with any range of auto repair problems, you can be sure that you'll never pay for work that isn't necessary. You'll only pay for legitimate procedures and necessary repairs. Nothing else. If you see one of those annoying lights on your dash come on, if your electrical system is giving you problems, your vehicle just isn't running correctly, or it's time for routine maintenance or an oil change, give your local Harbro Auto Service a call.
Our Technicians know how to properly service your vehicle, diagnose your vehicle's problem, and fix it properly. At the Harbro Auto Service center you and your vehicle will receive the attentive expert service necessary for long-lasting repairs from our staff. For your convenience, we accept credit cards, debit cards, and checks as payment.

Types of Auto Repair and Maintenance Services Harbro Auto Service Provides
Auto Repair, Maintenance
Air Conditioning Service
Alignments
Alternator Installation & Repair
Antilock Brake Service & Repair
Auto Repairs
Axles
Ball Joints
Battery & Ignition Service & Repair
Belts Brake Adjustments
 Auto Repair, Maintenance & Rental Service
Air Conditioning Service
Power Brake Service & Repair
Preventive Maintenance
Radiator Service & Repair
Rotor Service

Alignments
Alternator Installation & Repair
Antilock Brake Service & Repair
Auto Repairs
Axles
Ball Joints
Battery & Ignition Service & Repair
Belts Brake Adjustments
Brake Service & Repair
Braking Systems
Complementary Safety Checks
Computerized Diagnosis
Shocks
Spark Plugs
Brakes
Steering System
Cooling Systems Diagnostics

Disc Brakes
Drum Brakes
Electrical Service
Emissions Repair
Engine Service & Repair
Exhaust Systems
Four Wheel Alignment
Freon & Coolant
Fuel System Service & Repair
Heating System Service & Repair
Light Replacement & Repair
Oil & Lube
Suspension
Tires
Transmissions
Tune-Ups
Rental Service